Calabasas remains a competitive luxury housing market, with homes listing for a median price of $1.5 million. However, some estates list closer to $30 million and include impressive additions like life-size chess sets, private studies, and multiple pools and water features. Investing in Calabasas real estate can be lucrative, especially if the property contains the most sought-after amenities.
With this in mind, let's look at some of the most impressive amenities in Calabasas real estate.
Wine cellars

Wine rooms are a staple of the most luxurious houses for sale in Calabasas. For those who enjoy a nightly glass of Pinot Noir, having a full-size wine fridge in the kitchen is the epitome of convenience and class. Wine fridges are a space-saving way to keep wine at the perfect temperature while creating a designated area to grow a collection.
Connoisseurs may prefer a temperature-controlled room connected to the kitchen or an entire cellar devoted to housing their collection. Either way, it's not hard to find these amenities within the luxury Calabasas real estate market. Wine cellars are a must-have for luxury buyers looking to entertain their guests over an upscale meal with exceptional beverages.
Theater or game rooms

Theater and game rooms have been a staple of luxury homes for years. The best houses for sale in Calabasas have everything a homeowner needs directly on the property — from a resort-quality outdoor pool and spa to a private movie theater.
However, having a theater complete with reclining chairs, popcorn makers, soda fountains, and a big screen is only the beginning. Game and entertainment rooms are also cropping up more in Calabasas real estate, with some homes offering spaces for billiards, arcade games, and even indoor bowling alleys and basketball courts. Homeowners can watch the latest blockbuster with the kids or catch the big game at their custom sports bar, all while in the comfort of their own homes.
Integrated technology
No luxury home in Calabasas is complete without integrated technology, which propels its value leaps and bounds ahead of other houses in the area. Builders and designers who incorporate technology into their plans develop high-end homes for sale in Calabasas, and potential homebuyers now expect to be able to unlock their doors with their phones or by fingerprint recognition. But that's not all — competitive houses should also provide remote alarm systems, automated thermostats, smart lighting, and sound system control.
Imagine a refrigerator that
keeps inventory
of what's inside and alerts a homeowner when they're running low on orange juice or an oven that provides cooking and baking instructions. Buyers expect these devices and appliances to be built-in — including home automation on a house's list of amenities could drastically increase its value in the Calabasas real estate market.
Outdoor kitchens and patios
The best luxury houses for sale in Calabasas will have ample outdoor space with room for entertaining. Infinity pools and outdoor spas are one thing, but homebuyers exploring Calabasas real estate are looking for complete outdoor kitchen amenities where food can be prepared and offered to guests directly outside.
To accommodate this desirable lifestyle, the home must have outdoor commercial-grade stoves and barbecues that can withstand the elements. Tucked beneath the porch or in a separate enclave off the back of the house, the outdoor kitchen should include a sizable kitchen island and a table with plenty of seating.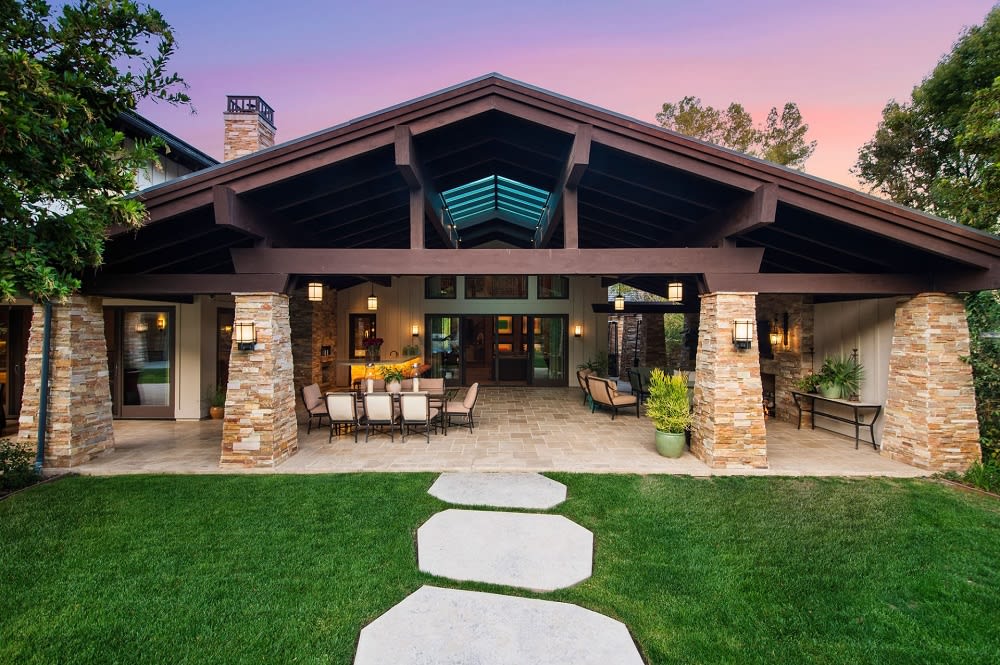 In addition to the kitchen and dining space, luxury homes should include separate patios. These may be situated closer to the pool or on an elevated area right outside the upper-level rear doors. Patios should overlook the property, showing the best of the surrounding hilly landscape of Calabasas.
Private fitness rooms and facilities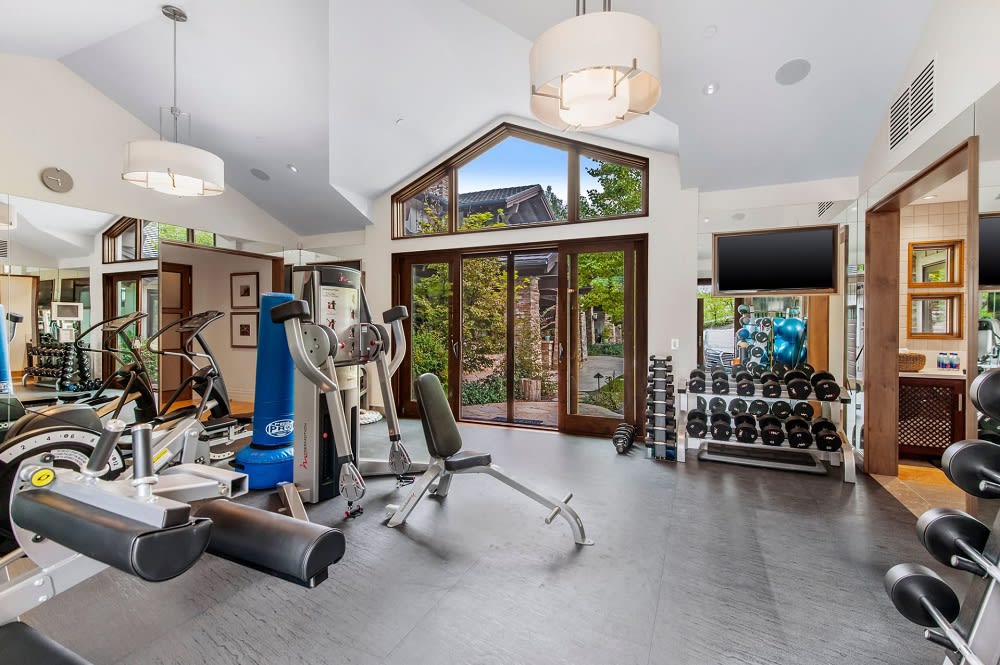 One of the best parts of living in a luxury home is saying goodbye to public gyms and locker rooms. Even private gyms and clubs may not offer all the equipment a homeowner wants to use for exercise, whereas luxury homes often have their own private fitness rooms and facilities ranging from rock-climbing walls to lap pools to
CrossFit equipment
. No matter the type of exercise a homeowner enjoys, having a private fitness space allows them to customize it to their needs.
Similarly, facilities like tennis courts or a beach volleyball pit overlooking the ocean can turn a luxury house into a five-star athletic resort. High-end luxury homes with fitness facilities don't skimp on the details, either: look for wall-to-wall mirrors, changing rooms, and showers in an at-home gym.
Luxury spa bathrooms
Walk-in showers, dark cement walls, and soaker tubs are only three of the many amenities which turn a regular bathroom into an at-home spa. Bathrooms that combine
charcoal grays
with shades of white and bamboo create the feeling of being at an authentic resort. Or, they may keep things clean and pristine with white tiles and appliances and beautiful marble countertops.
Calabasas's luxury spa bathrooms are outfitted with heated floors, shower steamers, and warmers for the towel rack. Dimmers on the light fixtures allow homeowners to keep things bright when they're getting ready for work or cozy for an after-work soak in the tub. The finishing touches are built-in speaker systems that allow serene, instrumental music to float in.
Houses for sale in Calabasas are known for their luxury amenities. Those interested in investing in Calabasas real estate should look for automated appliances, home theaters, wine cellars, and other coveted features. If you want to learn more about impressive luxury amenities or explore houses for sale in Calabasas, reach out to
the Fridman Group
for expert guidance.