While many industries and businesses suffered due to the pandemic last year, the luxury real estate market thrived. This year, it is expected to rise even more. Many wealthy buyers are looking to expand their living space in order to live more comfortably. They're on the lookout for more expensive homes with greater outdoor space, more amenities, and in areas with lower population density. They will continue to search for real estate properties that provide them and their family with a sense of security, health, and privacy away from the outside world. Here are some of the main luxury real estate trends for 2021:
Leaving The City for The Suburbs
The biggest trend in luxury real estate in 2021, for now, has been the tendency of buyers to flee densely populated cities. These cities have ramped up the prices, making people look for family homes in areas with lower population density. New York, for example, experienced a mass exodus in 2020 when it became the epicenter of Covid-19, and those residents are unlikely to return in large numbers for some time.
Many turned to suburbs that offer everything the city does but with fewer people. As a result, suburbs are turning into one of the ideal locations for luxury properties. Buyers want to avoid sharing elevators and being cooped up indoors all day. Moreover, they want to find comfortable spaces where they can work from home. In turn, townhouses, apartments with modest rooms, and nooks that can be utilized as home offices are all gaining popularity at an unprecedented rate. This trend will most likely continue through 2021 and into the new year.
More Outdoor Areas
After months of not being able to leave the house, it's only natural that big backyards and outdoor spaces have become one of the top trends in luxury real estate markets for 2021. People want to spend more time outside, breathing in the fresh air, and outdoor decks and patios are perfect for that. These outdoor decks are typically located on the higher floors of a building, giving occupants privacy while providing views of their surroundings. In addition to being made of wood, they frequently contain retractable windows that allow for fresh air circulation during the warmer months. Most modern high-rise buildings have outside covered decks on their top floors. It's also worth noting that outside covered decks can be combined with other luxury amenities.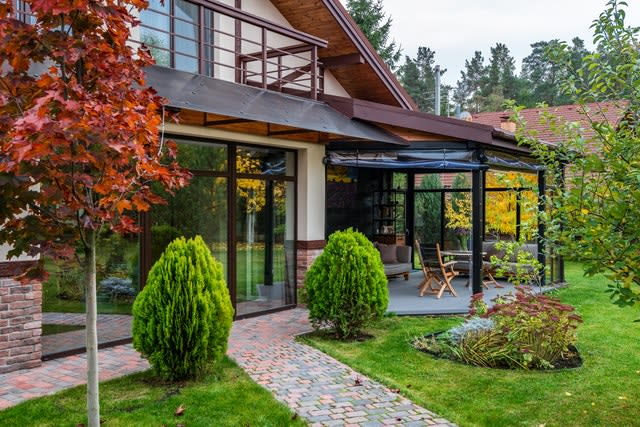 People are looking for ways to spend more time outside. That's why houses with terraces or gardens are on a rise in 2021.
Hot Tubs and Swimming Pools
Because of the pandemic, people are now more concerned about their health and wellness than ever. So, it makes sense that wealthy people are, now more than ever before, interested in all the amenities that allow them to take care of their bodies and relax. While home gyms were trendy in the past, now it's all about swimming pools and even hot tubs.
Hot tubs and swimming pools are a fantastic way to unwind and recharge for the next day. Nowadays, modern luxury homes frequently integrate these features right on the building's rooftop. It allows people to enjoy a refreshing swim or soak at any time of day or night. And they don't even have to leave their home! Most of these rooftop pools feature excellent views of the city skyline, which transforms into a unique entertainment experience in the evening with spectacular sunset views.
Choosing Natural Materials
Using natural materials like wood in your interior design is an excellent way to give warmth and sophistication to your home. It is also a more environmentally friendly option because it uses less energy and emits fewer hazardous pollutants. Environmentally sustainable interior design is becoming increasingly fashionable. Natural materials are more than simply pricey leather sofas and mahogany dining tables. The increasing popularity of wood furnishings can be ascribed to their aesthetic value and general functionality. All of these reasons combined are why modern farmhouses are selling fast in 2021. They give buyers privacy and combine the need to be outside with sustainability and running away from the crowds.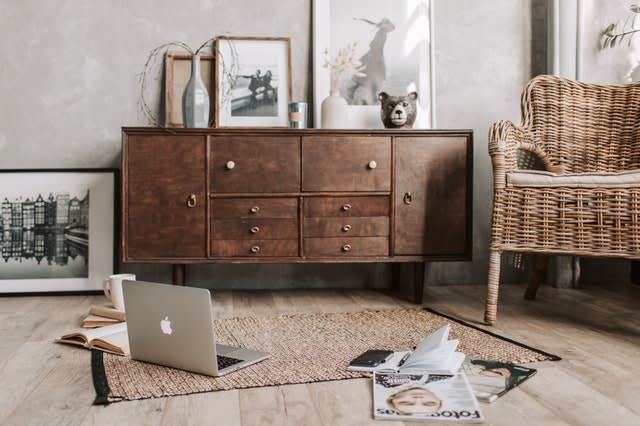 Many are trying to incorporate as many natural materials into their interior design.
Virtual Tours
With so many people avoiding the company of strangers, virtual house tours have seen an immense rise in 2020. They will follow the same trends in 2021 when it comes to luxury real estate. As more buyers seek their homes online, images and virtual tours have become the most effective approach to pique their interest and keep it there. Fascinating 3D virtual tours and architectural visualizations allow buyers to see how their future luxury house will look even before the construction starts.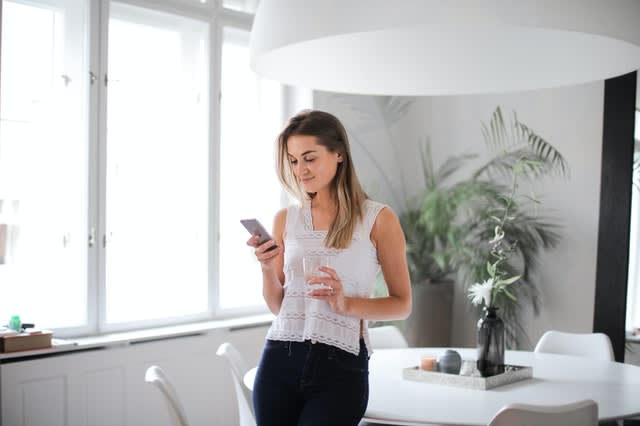 Smart houses allow people to turn electronic devices on and off by only using their phone or voice command.
Smart Homes
In 2021, smart homes have seen a significant rise in popularity. This is no surprise. Many people would love to use everyday smart home appliances connected directly to their home network via Wi-Fi. You can now remotely control everything from your smart fridge to your automated lights if you have the right apps. At the same time, thanks to voice recognition software, you don't even have to leave your couch. That is how far technology has progressed — and it will only get better in the future.
Moving in 2021
When it comes to luxury real estate trends in 2021, one of the thighs that stayed more or less the same is relocating. Moving across the state is as challenging even without the looming presence of the pandemic. On top of that, long-distance moving also means higher costs and bigger chances of losing or damaging your stuff. However, by hiring long-distance movers, relocating to a different city can turn out to be a seamless transition. They can help you predict, avoid and solve many of your moving-day problems. 
Final Thoughts
The Covid19 Pandemic has affected our lives in many ways, and it's exciting to see its effect on homeowners and future buyers. Most of the top luxury real estate trends for 2021 focused on things people felt they lacked the most during the lockdown. That's why most trends focus on allowing residents their privacy and safety while giving them opportunities to improve their health and wellness.