Calabasas could be the next place you call home if you're looking for eye-catching designs, ample indoor and outdoor entertainment space, and breathtaking views of the mountains. Let's look at some of the more exceptional Calabasas luxury homes for sale by the Fridman Group and explore their impressive amenities.
Tuscan Italian Farmhouse on Prado de la Felicidad
The stunning property at 25304 Prado de la Felicidad is located within Calabasas' gated Estates of the Oaks. With six bedrooms and eight full bathrooms, the 11,488 square-foot property is surrounded by gorgeous landscaping, complete with a Mediterranean-style pool, pond, and patio. Developed and designed by James Ring and John Reed, this Tuscan beauty sits on an impressive 61,848-square-foot lot.
Visitors will pass a charming stone courtyard area as they pass through the glass front doors. Floor-to-ceiling windows break up attractive walls of brick and stone, and those with a trained eye will recognize the
Versailles pattern
on the floors and appreciate the use of Venetian plaster and reclaimed beams.
This stunning property has indoor and outdoor dining amenities, including a barbeque, pizza oven, and dining nook. Each primary bedroom and the exterior yard sport magnificent views of the nearby mountains, and the property also features two spas with massage and steam rooms, a full gym, a home theater, and a wine room. A guest house is also available on the grounds where visitors can relax steps from the pool and koi pond.
Monastic Condo on Park Sorrento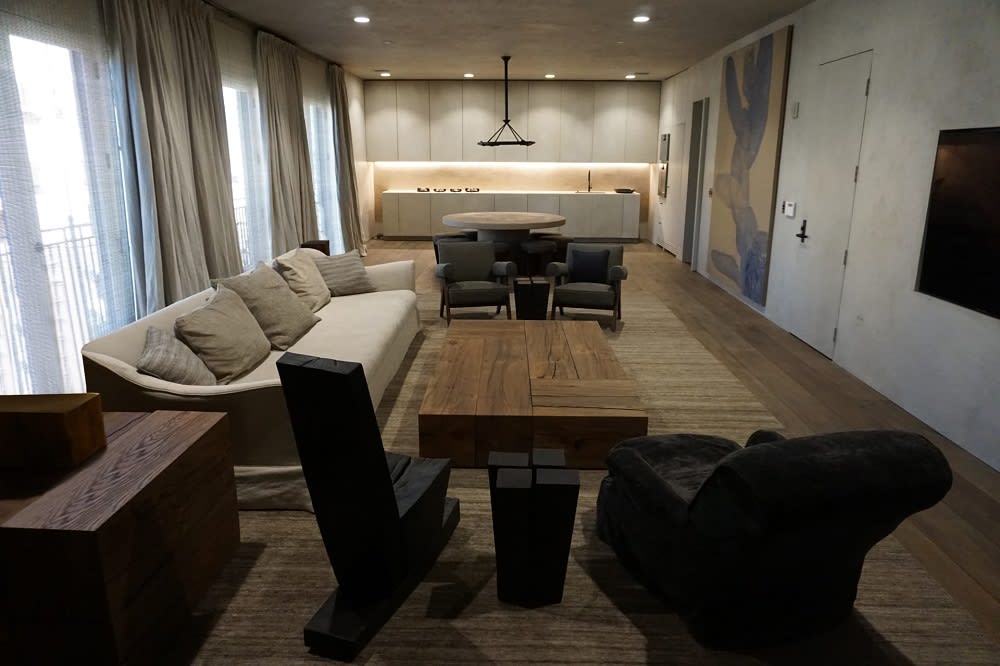 This minimalist condo was designed with a
monastery aesthetic
that exudes comfort and serenity. Located at 23500 Park Sorrento, the 2,260-square-foot piece of Calabasas real estate is a fine example of elegant architecture and thoughtful interior design, with each space flowing into the next.
All three bathrooms have private, full bathrooms, with an additional washroom. Grays, creams, and natural wood tones define the peaceful interior with custom-designed plaster cabinetry and appliances to compliment the overall aesthetic.
Designed by Vincent Van Duysen and built-in 2016, this relaxing modern condo is complete with one-of-a-kind furniture, decor, and light fixtures. The open floor plan connects the kitchen, dining, and living room in one effortless sweep. An enclosed deck sits just off the main living area, allowing residents to open the linen curtains to enjoy the fresh air without leaving the comfort and privacy of their homes.
As one of the more unique Calabasas luxury properties, those looking for high-end condos in Calabasas shouldn't overlook this opportunity. Its sleek, earthy ambiance is perfect for those desiring a simple, uncluttered space to call home. Outfitted with state-of-the-art appliances in the kitchen and bathrooms, the unique condo at 23500 Park Sorrento is an oasis of peace and privacy for any homeowner.
Villa on Prado de las Flores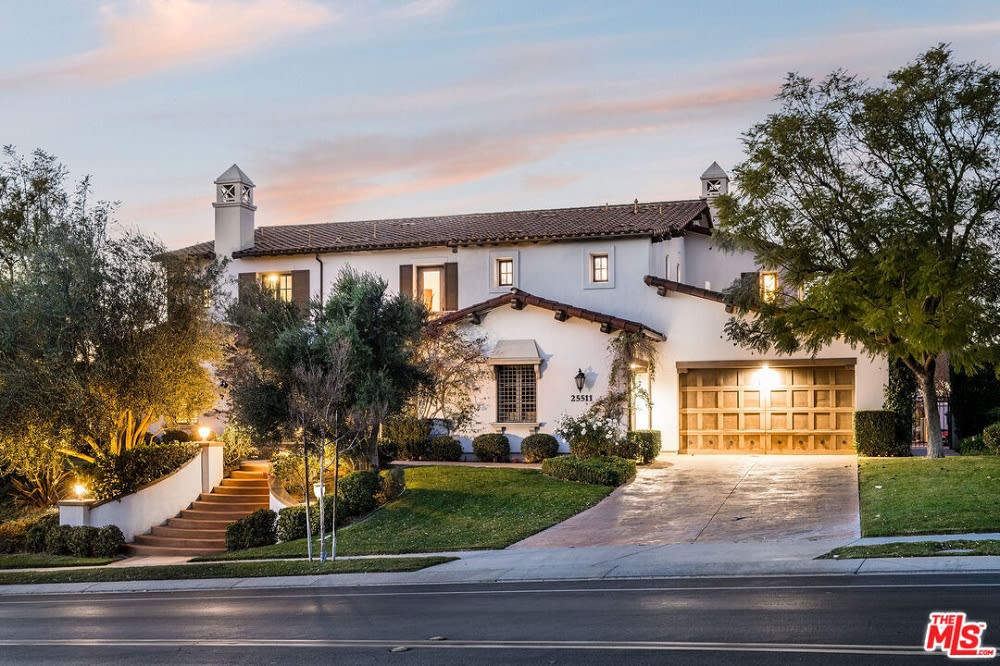 Step into luxury on the grounds of this must-see property at 25511 Prado de las Flores. Offering 6,807 square feet of living space, this home sits on over an acre of land within the gated Oaks of Calabasas. A circular foyer greets guests through the front doors, inviting them up the spiral staircase to the second level or adjacent sitting room. An open plan on the main floor connects the living, dining, and kitchen spaces. The kitchen is outfitted with bright cabinetry and gorgeous stone tiling on the floor. Tall windows and French doors provide views of the mountains from every angle. Also included on the main floor are separate maid's quarters, a full dining room, and a private office.
The refined interior aesthetic continues upstairs with an entertainment room just off the main stairwell. Sit and relax after a long day or step onto the attached balcony to watch the sunset. Six rooms flow on the upper level, several with ensuite bathrooms rich in texture and style. The primary bedroom includes a large dressing room closet, tub, and an additional balcony. One room is outfitted with a massage table, and another is an office space with balcony access.
You'll find a peaceful backyard area with a sizable pool and built-in hot tub outside on the sweeping estate. An outdoor barbecue, fireplace, and ample seating make the space ideal for entertaining guests. Turquoise trim around the back doors and windows provides a touch of whimsy to the outdoor space and elevates the home's exterior design.
Traditional on Prado de las Peras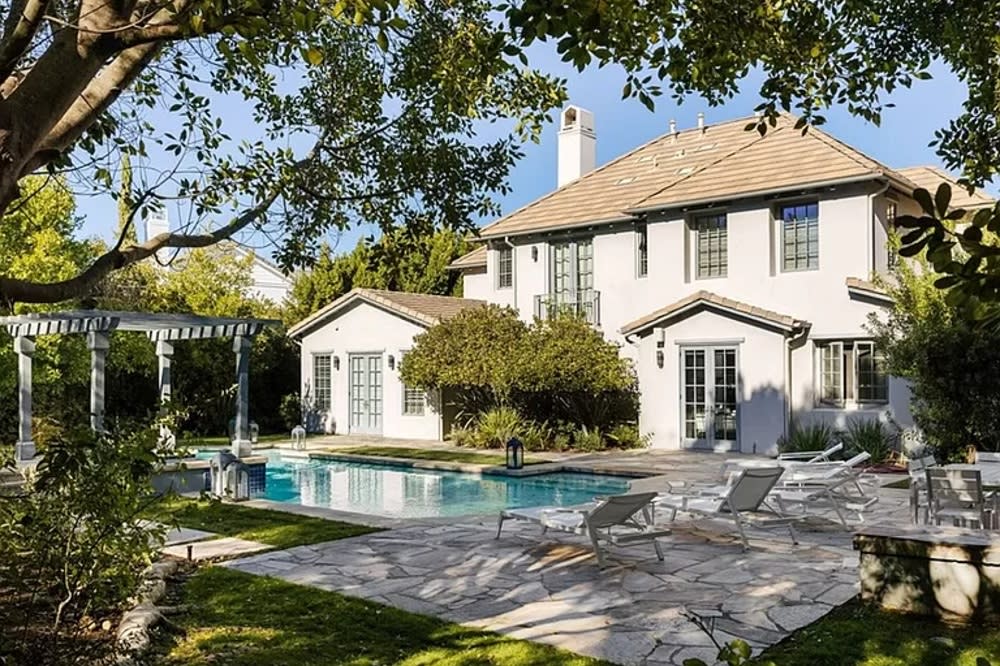 This upscale traditional with hints of Italian influence is a prime piece of Calabasas real estate. Situated within the guarded Oaks of Calabasas community,
25420 Prado de las Peras
combines a welcoming, elegant exterior with an artistic and expressive interior.
The home features an open floor plan which allows for easy movement between rooms and promotes a sense of flow and cohesion. The main floor invites you to freshen up in the powder room or step into a study with built-in bookshelves, plenty of natural light, and crisp white wall molding set against a matte charcoal finish.
However, the home's personality truly shines as you continue to the living and dining areas. Gorgeous hardwood floors bring an earthy element to the otherwise modernly designed rooms. Additional design flourishes like striking patterned wallpapers, bold decorations, and a beautiful, modern fireplace topped with classic molding are found throughout the home, adding a classic design touch to this artistic home.
The home's monochromatic color scheme extends into the kitchen with dark cabinetry contrasting with the traditional marble countertops and backsplash. The ground level features a spacious primary bedroom with rich hardwood flooring and minimalist decor and an ensuite bathroom with white cabinets, bright tiling, and dual sinks.
Residents will also find a walk-in closet, spa-style bathtub, and steam shower. The remaining bedrooms with adjoining baths are upstairs. Outside, the manicured lot offers a large pool and spa with plenty of space for entertaining by the barbecue or in the central courtyard. One of the most sought-after Calabasas luxury homes for sale, 25420 Prado de las Peras is an ideal property for those with an appreciation for a striking design.
With stunning properties complete with luxurious amenities listed across the city, our team will make sure you invest in the one Calabasas home for you. To start your home search, please reach out to
the Fridman Group
for expert guidance every step of the way.