Beat the Los Angeles Heat with These Nine Iconic Pools
9. La La Legendary


Offered at $5,998,000
Listed by Tomer Fridman & Dana and Jeff Estates
You might recognize this pool from the big screen. The modern piece of real estate that served as the backdrop for the second half of La La Land's epic "Someone in the Crowd" music number is now on the market with The Fridman Group & Dana and Jeff.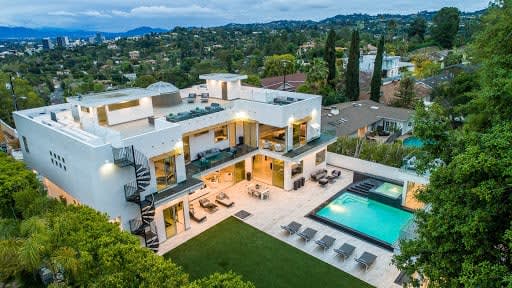 In the , Mia (played by Emma Stone, who won an Oscar for the role) dances around the stunning home at what's supposed to be an industry party. The bright blue pool is a key element of the scene, prominently featured when a dancer leaps off the balcony into the water below.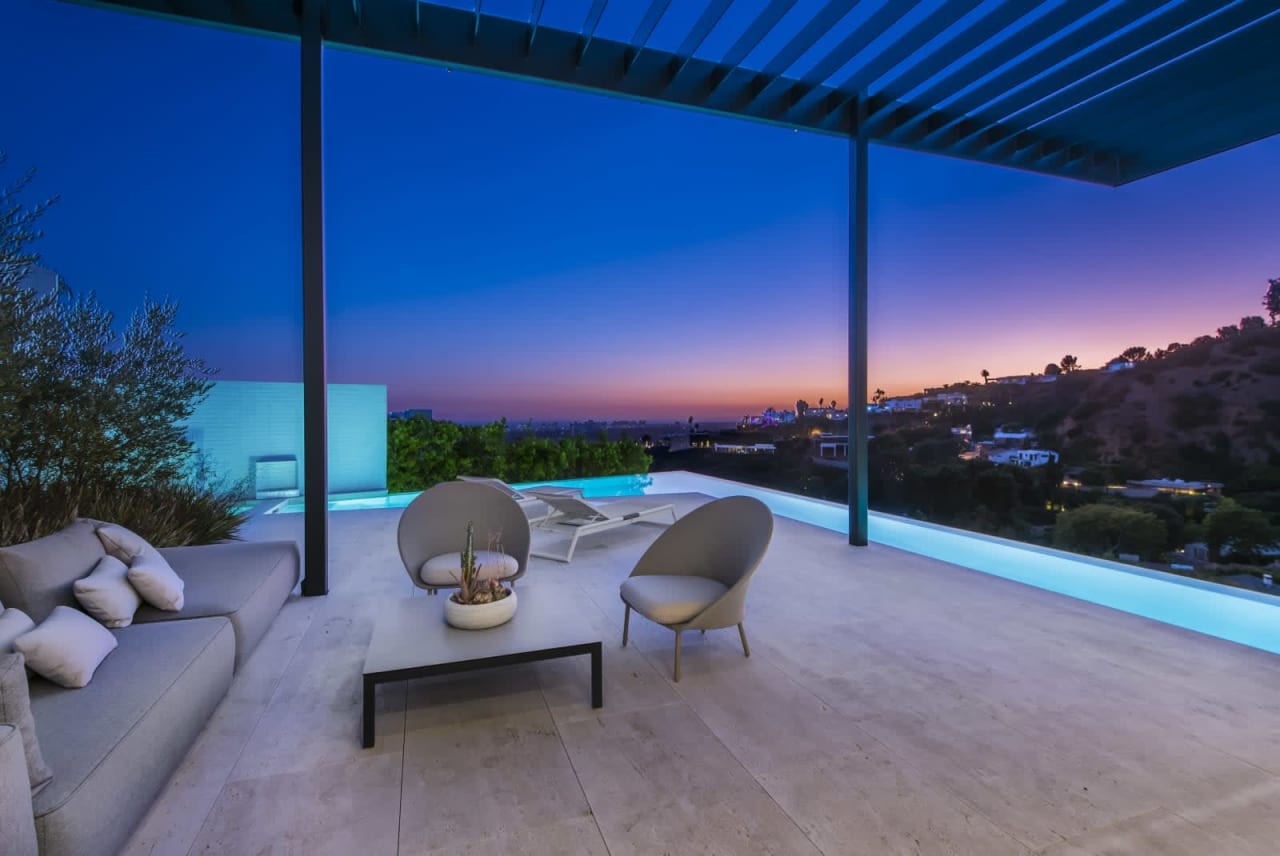 from its extravagant volume to its awe-inspiring panoramic views that can be relished from nearly every room. Indoor-outdoor living is highlighted in the front room, which opens seamlessly to the viewing deck that includes an infinity pool and spa.
7. Sanctuary on Swallow
Accompanying this stunning Swallow Drive pool is one of the . The estate, which offers stunning views, is located in the ultra-exclusive Doheny neighborhood and features approximately 12,800 square feet of modern living space. Walls of glass overlook spectacular jetliner views, and an incredible swimming pool nestled among a beautiful outdoor area is perfect for major entertaining.

This incredible home features every conceivable amenity, including a full spa/wellness center with a resistance pool, plunge pool, dry sauna, attached gym/massage room, and humidor room. There is also a full movie theater, entertainment area with a tequila/vodka freezer, walk-in regulated wine room, and the first-ever open-air shark aquarium with a living wall canopy, which creates an incredible transformative Zen-like experience. In addition, the home is equipped with state-of-the-art smart house technology, custom automated doors, top designer finishes with imported materials throughout, and a complete water purification system.


6. Private Paradise


Offered at $14,350,000
Listed by Tomer Fridman

​​​​​​​This private paradise is one of the newest additions to —the gated community where Kim Kardashian, Jessica Simpson, The Weeknd, Drake, and many other celebrities reside. Located at the end of the cul-de-sac in the exclusive Ashley Ridge enclave of the guard-gated community, this magnificent new build sits on over four acres of land. Its infinity pool provides ultimate serenity, looking out into the mountains with few neighbors in sight.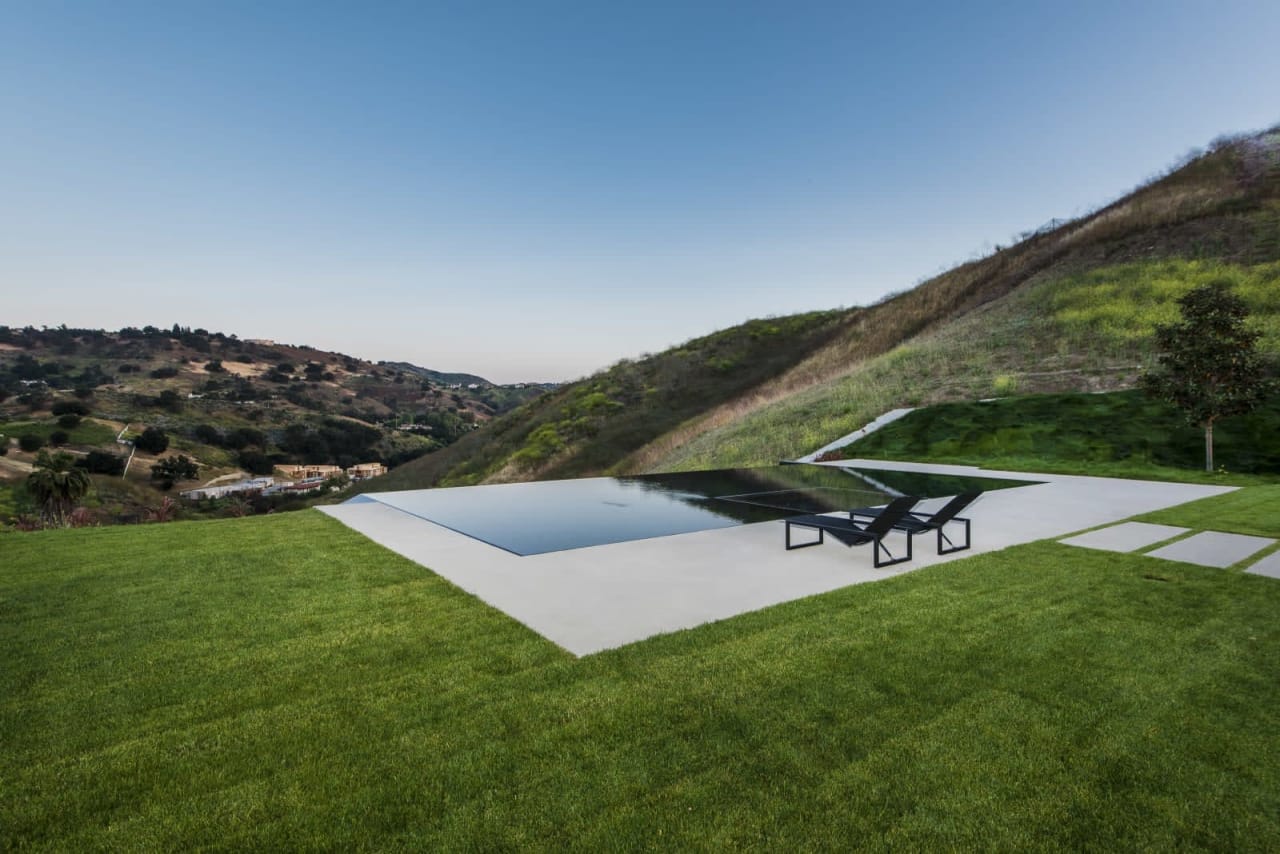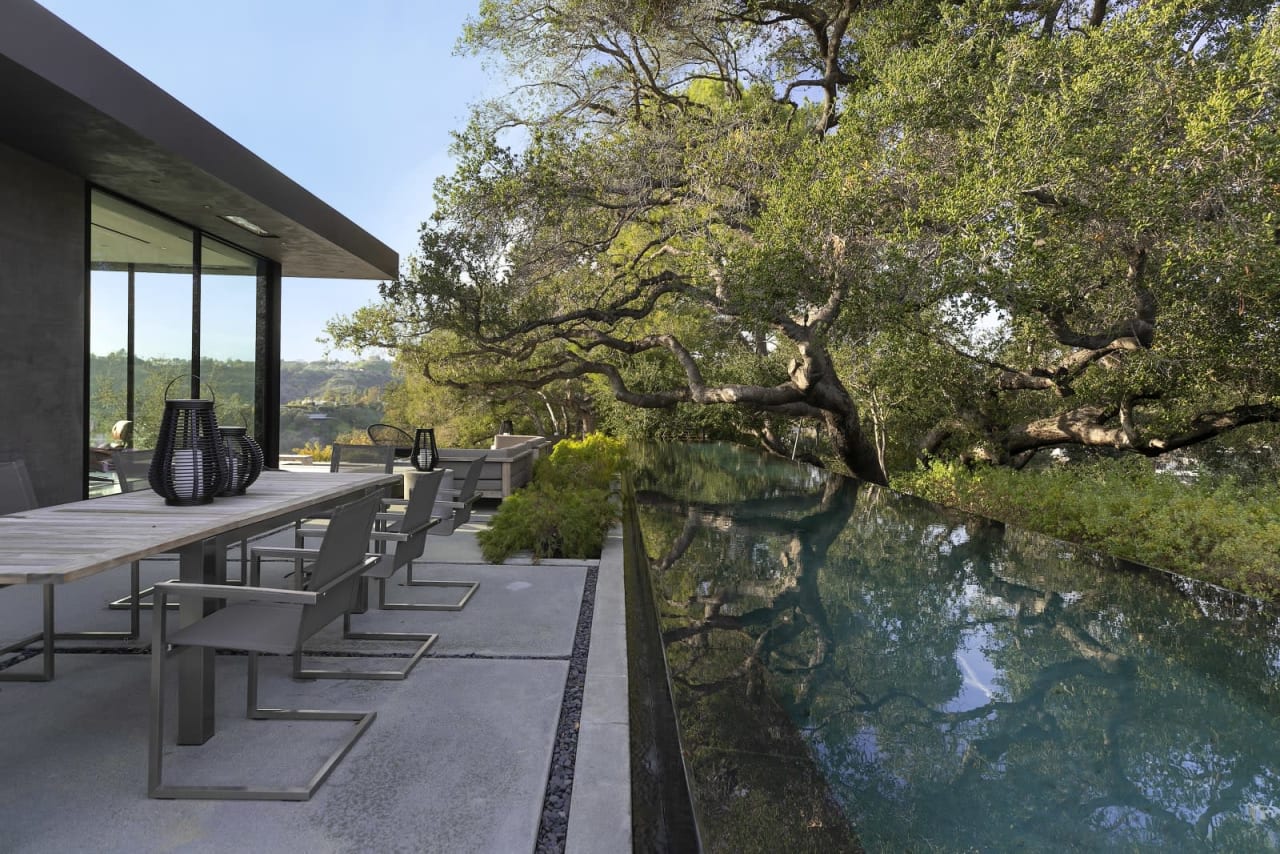 4. Historic Hideaway

Offered at $115,000,000
Listed by Tomer Fridman, Sally Forster Jones, & Drew Fenton
This pool is sited on the Owlwood Estate, one of the most historic properties in Los Angeles. Located on the largest lot in Holmy Hills, this estate has been called home by A-listers like Marilyn Monroe, Tony Curtis, and Sonny and Cher. Currently listed for sale at $115 million, the world-class 10-acre grounds include rolling lawns, a tennis court, and an Olympic pool. An adjacent pool house completes this exceptional compound awaiting its next chapter.

3. Modern Masterpiece
This residence boasts unparalleled city and ocean views and sits on an extremely rare promontory of land in the Bird Streets' exclusive Doheny Estates. The property's infinity pool contributes to its sleek, modern elegance and spills over the hill, allowing for panoramic views spanning for miles.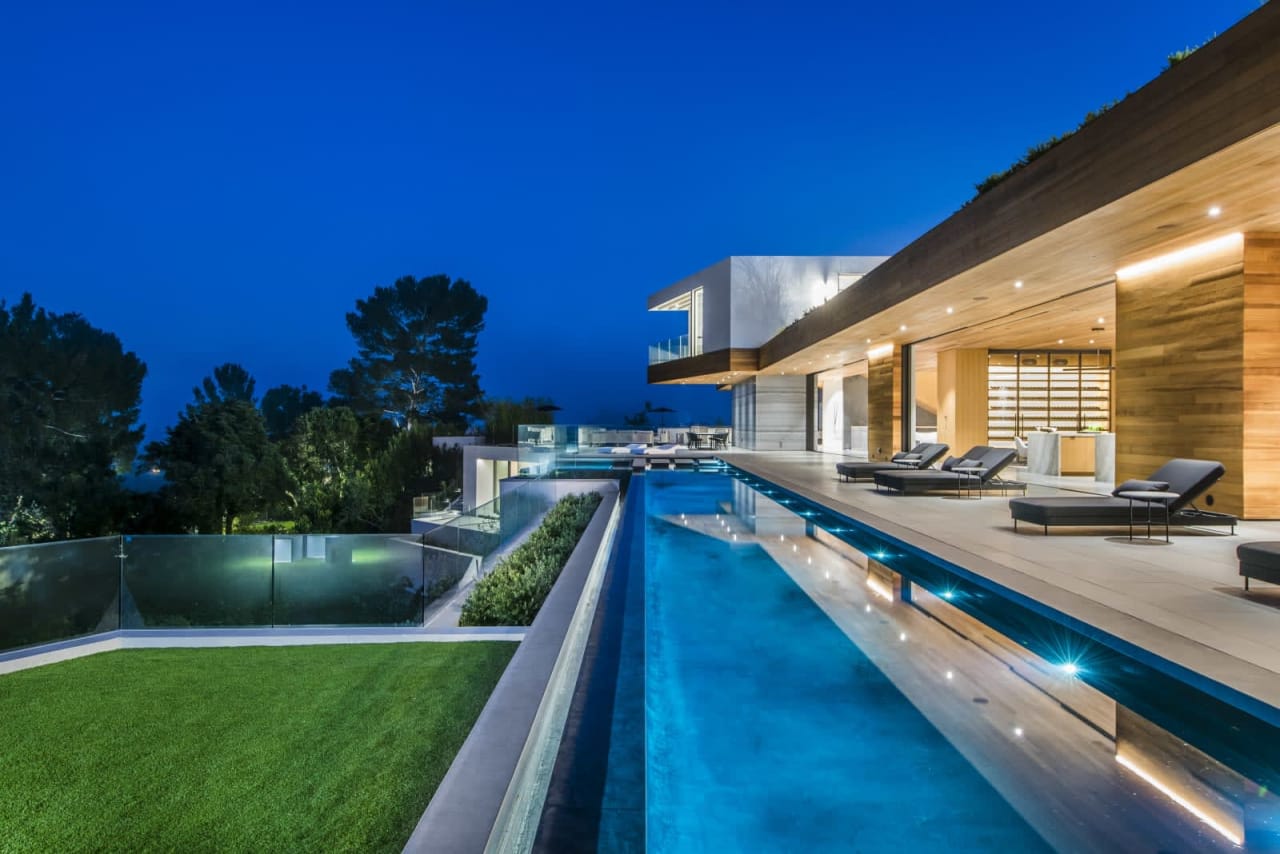 One of the most unique homes to come on to the market this year, this stylistic marvel was designed by renowned architect Noah Walker. This impressive 80-foot pool has an infinity edge and spans the length of the home, impeccably designed to frame the awe-inspiring views of Los Angeles, rolling hills, and mountains.
1. Beverly Bliss
1011 Beverly Drive, Beverly Hills
Offered at $135,000,000
The Beverly House is a legendary piece of —and for good reason. Originally owned by publishing magnate William Randolf Hearst, the home has been featured in memorable scenes from iconic films like The Godfather and The Bodyguard.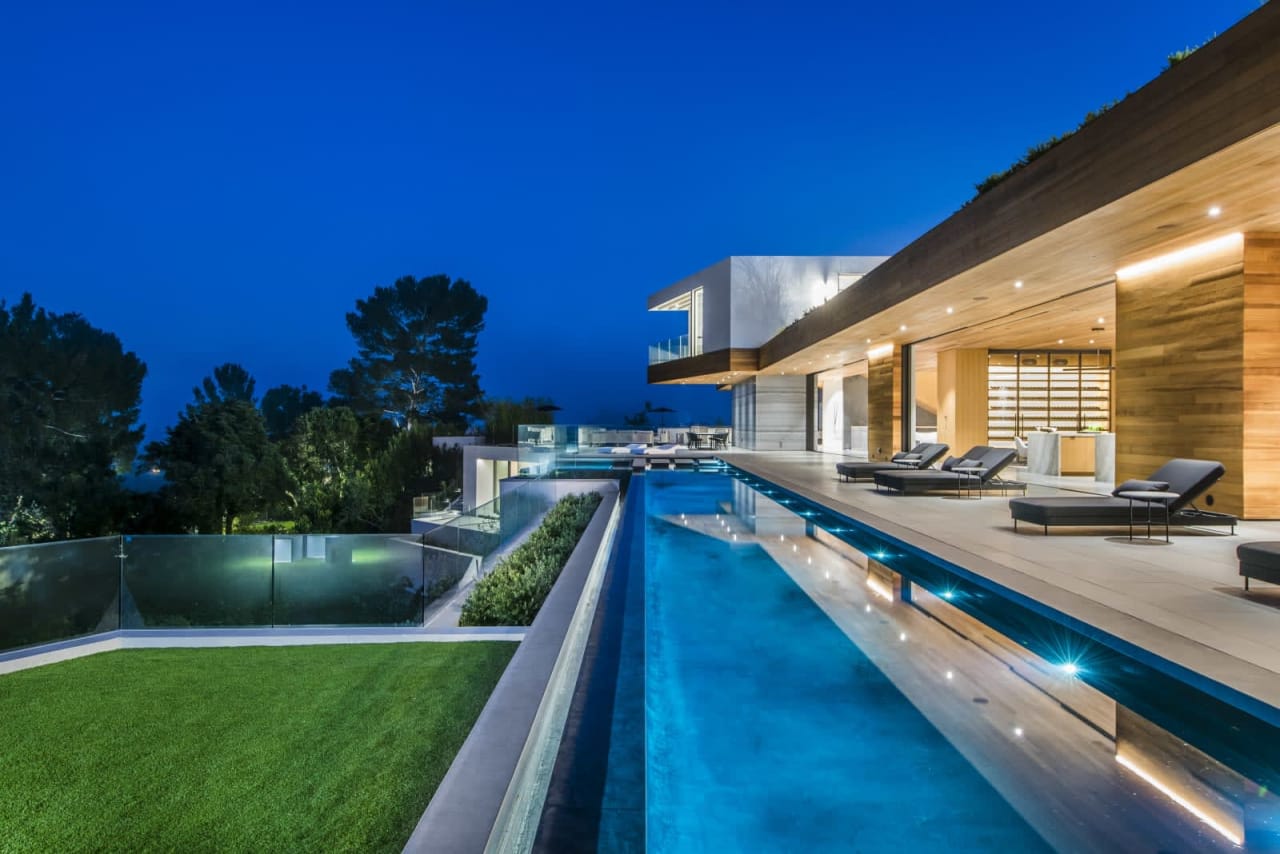 It also has a presidential connection, as it's where John and Jackie Kennedy spent their honeymoon. Want to take a dip in a top-of-the-line pool whenever your heart desires? Ready to call one of these stunning properties home? Contact for more information.